How to change sounds in Meta Trader
This is a short instruction/tutorial on how to change alert sounds and sounds in general in Meta Trader. I will also show you how to turn them off completely. I made it for MT4 but will work also with MT5.
1. Getting new sound files – Metatrader Trader is using *.wav files for alert sounds, which is not so common these days anymore, so you need to convert your mp3 or any other format you have to wav. I use convertio.co for that. You just upload your file and choose wav as the output format and press convert.
Select *.wav and press "convert".
Conversion may take up to a minute for smaller files we will be using. After that is done you just need to download it.
2. Finding Sounds folder in Meta Trader – You have to find your MT4 or MT5 in the Program Files folder.
If you are not able to do it or have a few instances of MetaTrader installed and don't know which one is the right one, there is an easy way to find out. Just right-click on the icon which launches your program and select More -> Open file location – it will open the file with icon location.
In the new window, you will see the icon of your Meta Trader. Right-click on it again and it will show you the path to the program. That's the place you have to go to.
If the path is long, you can copy it into Notepad.
3. Click on your Metatrader folder and then go into the Sounds folder. Here you are – these are all sounds the MT4 / MT5 is using.
4a. To permanently turn off all sounds in MetaTrader just delete all these files and you will be done. It will ask you for an administrator permit – just confirm. I've never had any issues or crashes after deleting sound files like this – just pleasant silence.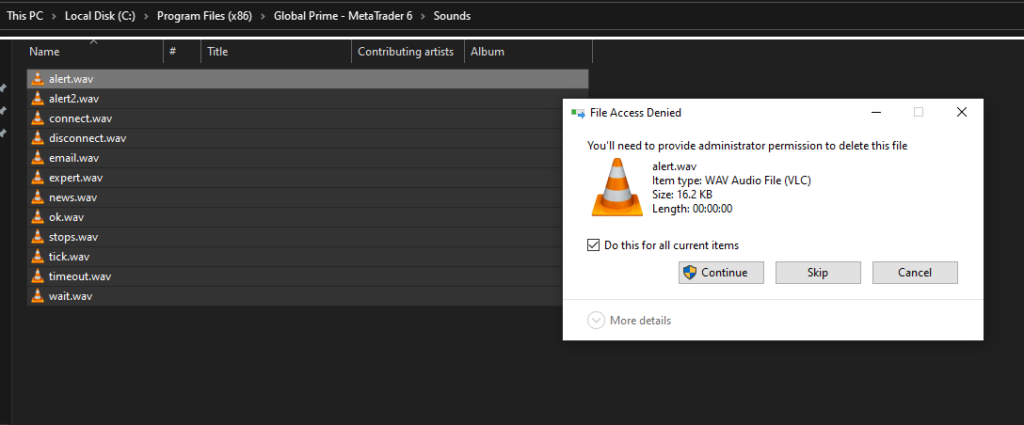 4b. If you want to replace one or a few sounds just copy your converted files into that folder. Again, you will be asked for an administrator permit – just confirm.
Click on the original files to make sure it is the file you want to delete. The sound will play in your default music program.
After that just delete this file and rename the file you want to use instead, so that it has the same name as the file you just deleted. You can also delete sounds you will not be using.

Done! Now you know how to change sounds in Meta Trader. You can open it now to check if everything is working. If you want to change more sounds, just repeat the steps above.
See all practical tips for forex trader
***
If you've liked this article, you might also be interested in subscribing to my e-mail updates in the box below.
I also wrote some other articles you might like: 
If you have friends who could be interested, please share this content with them: